---
Biology Tutors in Chakwal
When you call a tutor, please mention that you have found him/her on www.TutorForU.net


Ammara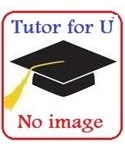 Qualification(s) : M.A. English, B.Sc.
Designation :
Department :
Teaching/Tutoring Experience : 2 years
Monthly Tuition Fee (5 hours/week) : 30000

Comments
Please click on the link comments & detail... on a Tutor of your choice to submit your comments. Some of the latest comments are:

---
On 2019-08-18 Saba Hakim wrote for Ammara :
Respected Mam, what were your subjects in B.Sc. and in HSSC? Really sorry to ask such a question because of your MA in English. I have get tuition for my younger sister of class First Year right from the start of the session.